Mysterious mines in
Myanmar
have become important to the world tin market in a sign of how the country's opening-up is revealing resources obscured during decades of military dictatorship and internal conflict.
The Southeast Asian state has caused a stir in metal-rich countries from Peru to Indonesia thanks to its opencast mines in the Wa region near the Chinese border that has been ruled by an armed ethnic party for more than 25 years.
The region is controlled by the United Wa State party, which has an armed wing and has long had close political and economic ties with China.
Myanmar's re-emergence as a big producer of the metal after a break of more than six decades has been branded by one tin market analysis as a "black swan" event.
Over the past four years, Myanmar's return has depressed the tin markets, but this year prices have risen as traders anticipate the supply could peak.
Myanmar's production of initially "astonishingly high" grade ore has surged more than 10-fold in four years in Wa, according to the International Tin Research Institute. The country now satisfies about a third of China's demand for the metal and 10 per cent of global supply. In the first half of the year exports of tin to China surged by more than 80 per cent. The metal is an ingredient of the solder widely used by the electronics industry.
Tin is unlikely to be the last resource surprise as this
mineral-rich
country presses on with reforms that began when the military dictatorship stepped down in 2011 after almost half a century of isolationist rule. The future of billions of dollars of commodity wealth, some of it in conflict zones, will also be a critical part of peace talks due to be launched this week by
Aung San Suu Kyi's
fledgling civilian-led government.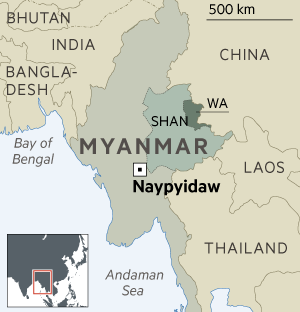 Win Htein
, an Aung San Suu Kyi confidant, said of the mines at Man Maw in the Wa region: "Even for us, it's still a mystery. They are quiet and very wise — and they keep their movements low-key."
The tin story is just one example of how Myanmar's international reintegration is uncovering resources that one long-time observer of the country says were previously "not known at all — or not known except to a select few".
Uncontrolled exploitation by both Myanmar's regional armed groups and the former ruling military of
jade
and other assets has driven war, environmental destruction and large-scale tax evasion.
The future of natural boons ranging from tin to timber will loom large at the peace conference starting on August 31 in Naypyidaw, the capital, which is billed as a first step towards ending Myanmar's more than 60 years of on-off
internal conflict
.
Source: Financial Times